Traffic is a major factor in city optimization, and is typically only a problem when a big city is highly developed.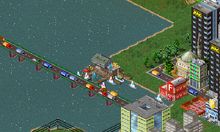 Traffic is viewable in its own filter, and also is a factor in city happiness.
The easiest way to decrease traffic is by upgrading from dirt roads to city roads, and from there, more organization is required for further optimization. Expressways, oneways, and busses are all very important in fully optimizing a city's traffic system.
Tips for Improving Traffic
Edit
Build a One-way road, Expressway, Mass Transit Service, and Highway would help improving your city traffic happiness and thus reducing traffic jams. It is not recommended to build a bus stop on a bridge, building a non-elevated highway system, and building Train station at far end of your city.
See Also: Roads